Language courses


It is no accident that you are visiting this page. Probably you have made up your mind that you want to study a language. Read about how we can help you overcome your challenges and become a successful language user.
The quality of your language teaching is guaranteed by our nearly 30 years' of experience, expertise, high standards in education and professional attitude.
Are you falling behind in school?
Are you approaching your final exams but not yet ready for the language test?
Do you need to take a language exam?
Are you considering taking up work abroad?
Would you like to change jobs and need a boost in your language skills?
Thinking of taking up a second foreign language?
Do you require fast and intensive language skills development?
Do you want a course tailored to your needs?
You are in the perfect place as the Converzum team will offer you whatever best suits your needs. If you feel inclined to join our face-to-face lessons, you won't be disappointed as they do have a unique atmosphere.
Would you like to study in pairs, small or regular groups? Opt for whatever provides the learning environment that you think will allow you to become the best learner you can be.
What makes us the ideal team to help you?
Our past and present students have represented thousands and thousands of different expectations, needs, learning styles, and motivations that we have learned to respond to. In our experience of nearly 30 years, we have learnt how to excel at conducting face-to-face classes and supporting our students when they face challenges and doubts.
Our mission is to help our learners acquire the language and achieve their learning goals as efficiently as possible while making sure that the process of learning is as enjoyable as it is useful.
Our qualified, well-prepared, and motivated language mentors are making a huge effort to give you an optimised and effective learning process with interesting and challenging yet fun lessons.
Gyere el az ingyenes Nyelvi Auditunkra!
If you liked it, book an appointment for our free Language Audit 
to start your online course immediately. 
As always, choose professionalism and quality so why compromise?
Go with Converzum.
How much is this for you?
Private tuition:
2-to-1 classes (two students with a teacher):
16 lessons: 49,000 HUF per person
4-to-1 classes (four students with a teacher)
20 lessons: 29,000 HUF per person
The timing of the lessons is flexible and is based on the students' request.  
Our academic management team
Anita Aklan
Director of Studies, English as a Foreign Language Teacher
Krisztina Tüll
Director of Studies, English as a Foreign Language Teacher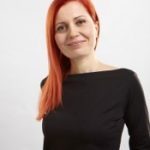 Edó Kiss
Director of Studies, German as a Foreign Language Teacher
Dóra Mezei
Senior Language Mentor, English as a Foreign Language Teacher
When I saw Converzum's facebook post, the only thing I was sure of was that I wanted to learn good Spanish. I booked the language audit and I received advice about my own learning methods and learning styles. Now I am one of the keen Spanish students in Converzum soon to move up level.
The atmosphere is really good in the lessons in Converzum and I am grateful that physical classes have resumed. For me it is important that I attend in person because my classmates are very nice, our teacher is always punctual and, most importantly for me, she is very patient.
I've been studying in Converzum for a long time and I am on my third language already. It's always been face-to-face classes and this really works for me. I am never hesitant to recommend Converzum because it is a conveniently accessible location, the building is modern and has all the necessary facilities, the staff are helpful, and the teachers are meticulously prepared. Everybody has a smile on their face here.